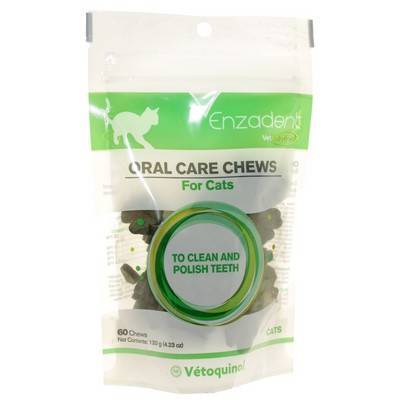 Vetoquinol Enzadent Oral Care Chews for Cats
Enzadent oral care chews are more than just chews for the cats. The cats get their teeth cleaned naturally by having lost of raw food and the enzymes provided by it.
Is Agile Joints Plus for cats safe to use? What about the significance of scientifically researched ingredients added here? Read on the benefits of Omega-3's included, along with reviews of Agile Joints Plus…
What are the benefits of Usnea thallus added in this feline Immune SURE formula? According to proven results it has been stated that this "old man's beard" offers anti-microbial aspects to your pets. Check for better understanding on this subject!
For domesticated cats, the raw food they get is not always enough to keep their mouth clean. They need daily dental routine of brushing, rinsing, and occasional professional cleaning as well. These Enzadent oral care chews serve as one of the daily routine part that can prevent both plaque and bad breath causing bacteria and at the same time polish the cat's teeth also.
Features of Enzadent oral care chews
The main purpose of Enzadent oral care chews is to clean the teeth and remove the food debris. It polishes the teeth surface and removes the plaque.
Enzadent oral care chews are made with freeze dries fish that is still in its natural raw form. The abrasive texture of the fish keeps the teeth clean and polished.
Enzadent Oral Care Chews are available in a pack that contains 24 chews. They are easy and safe to use. It is soft enough to care for the cat's gum tissues and hard enough to remove plaque from the tooth surface.
These chews provide all the natural enzymes available in the saliva.
Enzadent oral care chews contain triple enzyme system that consists of lysozymes, lactoperoxidase and glucose oxidase. These enzymes digest the plaque that is formed over the tooth surface. It can also be protective and prevent further plaque formation.
Enzadent oral care chews ingredients
The major ingredients used in the making of Enzadent oral care chews are freeze dried fish, antioxidants combined with tocopherols for its stability, barley malt extract, ascorbic acid, citric acid, canola/soybean oil, natural fish flavor, polysorbate 80, dried whey protein concentrate as the source of lysozyme, potassium sorbate, lactoferrin and lactoperoxidase.
Serving Enzadent oral care chews: Enzadent oral care chews must be served as per the veterinarian's advice.
Why use Enzadent oral care chews
Enzadent oral care chews may seem like feline treats but they hold a strong importance in maintain the dental health. The most common dental problem in cats is gingivitis or the inflammation of the gum. It is a bacteria that causing this problem which can also form the plaque, then to tartar. The worst case of gingivitis leads to stomatitis.
Although Enzadent oral care chews are small, they can make a big difference in the feline health in a longer run. it is made with safe ingredients suitable for daily use. It does not cause side effects, unless there is an over dosage. The regular dental cleaning and polishing keeps the gums and teeth in the green of the health and these worst situations may be easily avoided. The cats also can enjoy a good time snacking on these chews as well.
Summary
Author Rating
Brand Name
Product Name
Enzadent oral care cat chews
Price
Product Availability
Originally posted 2015-06-03 05:22:42.